Tizen Toolbar Icons
The collection of Tizen Toolbar Icons includes over 450 images you're likely to find in common applications. This versatile pack covers the broadest range of topics, making the collection usable in many types of Tizen mobile apps and online projects. Tizen Toolbar Icons are drawn in glossy style with sharp reflections. The highlighted "hot" versions will "pop" by shining even more, casting a sharper reflection than the "normal" versions.

There are 488 unique images in this icon library. Each icon from the Tizen Toolbar Icons set comes in Normal, Hot (highlighted) and Disabled states. All images come in sizes of 48x48, 32x32, 24x24, 20x20, and 16x16 pixels. Two color resolutions are included: semi-transparent True Color with Alpha channel and 256-color images drawn on transparent background. All icons are provided in ICO, PNG, GIF, and BMP formats.


Image states: normal, hot, disabled
File formats: PNG, GIF, BMP, ICO
Image sizes: 48x48, 32x32, 24x24, 20x20, 16x16
Background: transparent
Icon quantity: 488
Price: $99.95 / 79.95 EUR

Download demo
View license


---
Shiny Menu Icons - Icon List
2d pie chart, 3d bar chart, 3d chart, 3d pie chart, Abort, About, Access key, Account card, Account cards, Add, Address book, Admin, Airplane, Alarm, Alien, Align center, Align left, Align right, Ambulance, Apply, Appointment calendar, Archive, Attach, Attachment, Attribute, Award, Back, Bad mark, Balance, Bank account, Bar graph, Basket, Battery, Bell, Binary data, Black list, Blank, Blanks, Blue message, Book, Book library, Book of records, Bookmark, Books, Boss, Bottom, Brief case, Britain flag, Brush, Burn CD, Burn document, Burn document 3d, Burn dustbin, Burn sheet, Burn sheet 3d, Calculator, Calendar, Call, Camcoder, Camera, Cancel, Car key, Card file, Card index, Card terminal, Case, Case history, CD, Cell phones, Cellphone, Certificate document, Certification, Chart, Chart XY, Chat, Check boxes, Check file, Check options, Check out cart, Checked message, Chip, Clear document, Client list, Clock, Close, Closed door, Closed folder, Coffee, Coins, Compass, Computer, Computer access, Computer sound, Conference, Configuration, Connect, Contact, Copy, Copy document, Copy document 3d, Copyright, Corrupt text, Counter, Create, Credit, Credit cards, Customers, Cut, Cycle, Data, Data filters, Data transmission, Database, Database server, Datasheet, Datasheets, DB, Delete, Delivery, Demography, Depression, Desktop, Disaster, Disconnect, Display, Doctor, Documents, Dollar, Down, Download, Download image, Downward pointer, Drawing, Drop, Drum, DVD, Earth, Edit document, Edit document 3d, Electric power, Electricity, E-mail, Empty dustbin, Entire network, Envelope, Equipment, Erase, Eraser, Error, European flag, Event manager, Execute, Exit, Explore, Export table, Export text, Extract, Eye, Favourites, Fax machine, Figures, File attribute, Filter, Find, Find in folder, Find on computer, First, First aid, Floppy, Flow block, Flowchart, Folder, Folder tree, Forbidden, Form, Form 3d, Form editor, Forum, Forward, Frame, Frames, Frames 3d, Free, Full dustbin, Full recycle bin, Gamepad, Games, Gantt chart, Gauge, Gear, Genealogy, Get message, Gift, Globe, Go, Go back, Go down, Go forward, Go up, Good mark, Graph, Graphic file, Graphic tools, Green earth, Green message, Grid, Hand, Handshake, Harmful, Head-phones, Heart, Help, Help book, Hide, Hint, Hints, History, Holidays, Home, Home page, Hot documents, Hourglass, House, How to, ID, Ignore, Image, Image document, Image document 3d, Image protection, Import table, Import text, Income, Index, Info, Information, Inquiry, Insurance, Internet, Internet access, Intranet, Inventory, Items, Key, Key copy, Key keeper, Keyboard, Keypad, Keys, Knowledge, Languages, Last, List, List 3d, Local security policy, Location, Lock, Locked folder, Login, Lookup, Loud speaker, Mail, Mailing, Market report, Measure, Megaphone, Message, Mobile phone, Modify, Money, Money bag, Monitor, Mouse, Multimedia file, Multiple problems, Music, Music notes, My computer, NATO, Navigator, New, New document, New document 3d, Newspaper, Next, Nick, No, No entry, No entry sign, No music, No sound, Notebook, Notebook computer, Notes, Object, Object manager, Objects, OK, Open, Open card index, Open door, Open envelope, Open file, Open lock, Options, Order form, Order form 3d, Out of service, Pack, Package, Pallet, Paper, Paste, Paste document, Paste document 3d, Payment, PC-Web synchronization, PDA, Pen, Pencil, People, Percent, Period end, Person, Person details, Personal smartcard, Phone, Phone support, Phones, Photo, Pick, Pin, Pipette, Play, Pointer, Police officer, Post, Postman, Preview, Preview 3d, Previous, Price list, Print, Print preview, Printer, Problem, Product, Properties, Protection, Put, Put away, Question, Question mark, Questionnaire, Questionnaire 3d, Receptionist, Records, Recycle bin, Recycling, Red case history, Red message, Red star, Redo, Redo v2, Reflex camera, Refresh, Refresh v2, Registered problem, Registration, Remove, Rename document, Rename document 3d, Repair, Repeat, Report, Reports, Reports 3d, Resize image, Resources, Retort, RGB, Roll, Rotate CCW, Rotate CW, Save, Save as, Save picture, Scales, Scenario, Schedule, Scheduled, Script, Search, Search next, Search previous, Security, Send message, Server, Signature, Single problem, Site map, Smile, Smile image, Sorting 1-9, Sorting 9-1, Sorting A-Z, Sorting Z-A, Sound document, Sound regulator, Spell checking, Spy, Staff, Start, Statistics, Steering-wheel, Stop, Structure, Support, Sync, Synchronize messages, Table, Tables, Tag, Tambourine, Tasks, Telephone, Telephone directory, Terminate, Text, Text file, Text file error, Time, Time machine, Time zone, Timer, Tip of the day, Tools, Top, Trailer, Transfer, Trash, Turn off, TV, Umbrella, Undo, Undo v2, Units, Unlock, Unpack, Up, Up folder, Update, Upload, Upload image, USA flag, USB drive, User, User group, User login, User logout, Users, Valign bottom, Valign center, Valign top, Value, Video file, View, Voice chat, Voice identification, Volume, Volume down, Volume level, Volume up, Warning, Weather, Web camera, Web form, Web site, Webcam, Wedding, What is it, Winner, Wizard, World, Yes, Zoom, Zoom in, Zoom out.


---
We offer stock icons for desktop applications, web sites, mobile software, graphic design, business cards.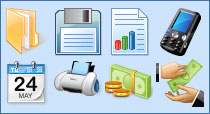 A great set of icons for sound-recording applications and audio catalogues. Wide range of sizes from 16x16 to 48x48 pixels is provided.
A collection of bright and stylish icons that will instantly enhance any web page or portal. Available in all the typical toolbar sizes.
Large Crystal Icons set holds a great variety of images in all the popular icon formats, including ICO, PNG, BMP and 3ds Max.
Large Vector Icons represent everything a vector icon set can be. Smooth, easily readable, increadibly stylish - and the best thing is, they all work together as a matching set.